Half-Staff Alert - March 27-30, 2020
For Nevada Only
EXECUTIVE ORDER 2020-3
ORDERING FLAGS TO HALF STAFF
WHEREAS, Nevada Highway Patrol Sergeant Ben Jenkins was a proud Nevadan who devoted his life to serving his state and his county; and
WHEREAS, Sergeant Jenkins began his service to the State of Nevada in June 1998, as a crew supervisor with the Nevada Division of Forestry; and
WHEREAS, Sergeant Jenkins previously served as a training officer for the Nevada State Fire Marshal Division; and
WHEREAS, Sergeant Jenkins served his community as an Assistant Fire Chief for the Spring Creek Volunteer Fire Department; and
WHEREAS, Sergeant Jenkins is a veteran of both the Army National Guard and the Air National Guard; and
WHEREAS, Sergeant Jenkins began his service for the Nevada Highway Patrol in March, 2008 as a Trooper; and
WHEREAS, in March, 2011 Sergeant Jenkins was awarded the Department of Safety Gold Medal of Valor for an extraordinary act of heroism while putting his own life at great risk to help another; and
WHEREAS, Sergeant Jenkins was recognized for his performance on duty and promoted to the rank of Nevada Highway Patrol Sergeant in 2017; and
WHEREAS, Sergeant Jenkins ended his watch on March 27, 2020 while on duty serving the State of Nevada; and
WHEREAS, Article 5, Section 1 of the Nevada Constitution provides: "The supreme executive power of this State, shall be vested in a Chief Magistrate who shall be Governor of the State of Nevada."
NOW, THEREFORE, by the authority vested in me as Governor by the Constitution and laws of the State of Nevada and the United States, it is hereby ordered that:

The flags of the United States and_ the State of Nevada shall be flown at half-staff at the State Capitol and all state public buildings and grounds until sunset on Monday, March 30, 2020, as a mark of respect and in remembrance of Nevada Highway Patrol Sergeant Ben Jenkins.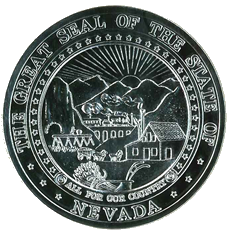 IN WITNESS WHEREOF, I have hereunto set my hand and caused the Great Seal of the State of Nevada to be affixed at the State Capitol in Carson City, this 27th day of March, in the year two thousand twenty.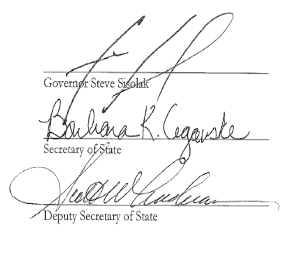 **When flown at half-staff or half-mast, the U.S. flag should be hoisted first to the peak for an instant and then lowered to the Half-Staff or Half-Mast position. The flag should again be raised to the peak before it is lowered for the day.
---
FlagsExpress.com
will provide you with an E-mail notification when your American or state flag should be flown at half-staff in accordance to Presidential proclamations.